Collection Reducing Cardiovascular Risk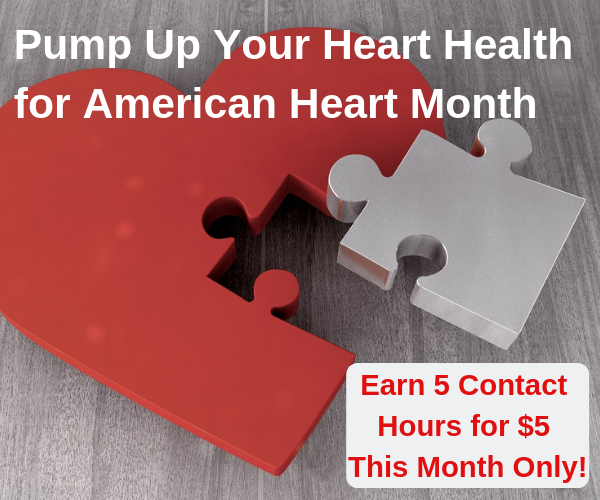 Special offer for American Heart Month! We've bundled three CE activities related to reducing cardiovascular risk. Learn about the benefits of statin therapy, how the Mediterranean diet plays a role in the prevention of chronic disease, and management options for patients with hypertriglyceridemia. Earn 5 contact hours for $5!
CONTACT HOURS: 5.0
PRICE: $5.00


---
PLEASE NOTE:
To take advantage of the special collection price, please be sure to click on the "+Cart" button. If you are not logged in, you will be directed to a login page before you can add the collection to your cart.
Coupon Codes cannot be used towards purchase of a collection.
$5.00
+ Cart
Credits:

ANCC 1.5 CH / 1.5 APH
DC - BON 1.5 CH
FL - BON 1.5 CH
GA - BON 1.5 CH

Test Code: NP1018B

Published: Oct 2018

Expires: 9/4/2020

Details

Credits:

ANCC 1.5 CH
DC - BON 1.5 CH
FL - BON 1.5 CH
GA - BON 1.5 CH

Test Code: NT0917B

Published: Sep/Oct 2017

Expires: 9/6/2019

Details

Credits:

ANCC 2.0 CH / 2.0 APH
DC - BON 2.0 CH
FL - BON 2.0 CH

Test Code: N0615B

Published: Jun 2015

Expires: 6/7/2019

Details